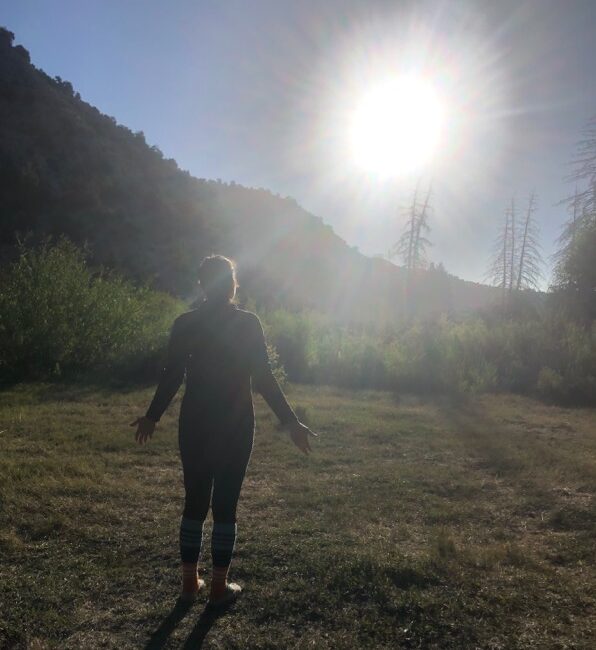 In Seven Levels of Quest you learn to use every aspect, every experience in your life as a way to go into the Sacred Silence, and as a way to touch Eternity.
"These Seven Levels of Quest encompass the total knowledge and experience of the Vision Quest. More than that, they have the power to lift ordinary, daily life experience from the mundane and physical to the height of spiritual clarity and enlightenment.
"With the understanding and the practices of the Quests, no facet of life remains outside your spiritual growth and vision. Better yet, these Quests are easily fitted into your daily life. There is no need to go off into the woods for a week or more to work with them. In fact, they are better suited to an active lifestyle. These quests are not static practices, but are dynamic and evolving, keeping pace with the spiritual growth and evolution in your life."
~ Malcolm Ringwalt, Lineage Elder

The Vision Quest is the first level of quest and the mother of them all. Discovering the other levels on your own could require years or decades of dedicated practice. Integrating these quests into your daily life will shave years of work off of your spiritual journey.

This workshop balances instruction and experiential time. You will be guided in these Seven Sacred pathways. There are no prerequisites for this workshop.
Seven Levels Community & Testimonials
"I would like to send this note of Thanks Giving for getting to be part of this year's "Seven Levels." I truly enjoy all the wonderful benefits from this, as it flows through and within me, as I move forward in my day-to-day life with these gifts…my Spirit thanks you!… I see how there are ways of growth that I could not have attained without the work you have done… With the help and guidance of these Seven Movements (Levels), all the parts of life are made Sacred. Within these tools there is a fluidity to life that is Being. In review of my life I see no time or place that is empty now."
Todd P. USA
"It was our honor and privilege to be part of this extraordinary class. The Seven Levels continue to move through us. Appreciation and Gratitude for our lives, our loved ones, our home and all we see flows abundantly. Looking through new eyes, we are making better choices in each moment… It had been an exceptional journey. You have done a magnificent job in creating the structure to share these Quests."
Ronda C.  USA
"The 7 levels of Quest was one of the most fantastic courses I've ever had!"
Rien de R. The Netherlands
"[The Seven Levels] training was nothing short of miraculous for me. I am walking away with tangible tools to experience life at its fullest, with peace in my heart, and with boundless enthusiasm & gratitude for these teachings.  I am already benefiting and seeing results.  Everything about this program was perfect. Thank you endlessly, Matt & Dawn!"

Miriam B. USA
"There is giving a man a fish, and then there is teaching one to fish. Chuck and Sandy through the seven levels course helped me to learn to fish, to stop tripping over myself and just fall into the space between desire and acceptance, and to understand one from that which seemed insoluble, to go in to go out. Their care and patience with my many many questions, their depth of knowledge and joy in the journey has been an integral part of my own discovery. Thank you both again. Just WOW."
Terence M. Canada
"The 7 levels of quest was certainly more than I expected, and definitely pushed some edges of experience in a divine way. I knew after my first vision quest (Lokota lineage) that I would need to be supported in my everyday life in deepening my awareness-connection with the spiritual dimensions. The seven levels were sacred, potent and universal. It sent me home with some really great quests-tools that are helping me to live out my vision. The sacred silence has been incredibly medicinal for me. Thank you Chuck and Sandy for holding such a safe, sacred and fun
container."
Emma O. Canada
"The seven levels course was one of the most impactful events of my life. The format of the fusion of an outdoor course and ceremony, wrapped up with a balance of instruction anchored with direct practice and experience which allowed me to connect deeper with my own self and the nature around me. The learning offered intellectual understanding without impeding the direct experience learning which is far more impactful and planted seeds which continue to revolutionize my life path years later. I came away with a more integrated understanding of my reality equipped with tools for leading an aware, present and connected life (some call it a "spiritual life") in any context." 
 Dmitri S. Canada
Seven Levels of Quest encompass the total knowledge and experience of the Vision Quest